Our History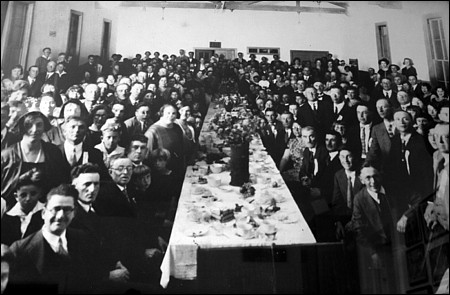 We are proud to be the oldest Jewish community between San Francisco and Portland. Our traditions continue to evolve, but we remain a welcoming and united community for those wishing to explore Judaism from many angles.
B'nai Israel's history is written down in our Record Book:
"The regular monthly meeting of the B'nai Israel—Petaluma, October 22, 1864. President B. Newman in chair. The reading of the minutes from the last meeting was suspended. Moved and seconded that the election of officers take place tonight. The following were duly elected: B. Newman, President; B. Heineberg, Vice-President; J. Mears, Treasurer; J. Daychert, Secretary... Moved and carried that a Committee of three be appointed to render a Note of thanks to the Petaluma Hebrew Ladies Society and to the Petaluma Lodge Free Masons..."
From those beginnings, Congregation Society B'nai Israel was incorporated by the State of California in 1871.
Until 1925, the community moved from place to place. There were numerous Jewish organizations in town wanting to have a building in which they could all meet. In August 1925, the current structure was dedicated as the Petaluma Jewish Community Center. Here Jews gathered to sing, dance, hear Yiddush plays, gathered in joy and sorrow. Here the new influx of Jews from Russia strengthened the numbers and depth of the Petaluma Jewish community. In the 1950s the Center evolved into more of a synagogue than a place for different groups to meet. Over the ensuing years, as Congregation B'nai Israel, the institution served as a gathering place for Jewish education, for Shabbat and Holiday services, and for community celebrations.
Recognizing the diversity of the present Jewish community in Sonoma County and Northern Marin, the board of directors adopted the name B'nai Israel Jewish Center in January of 2006. This choice reflected the recognition that Jewish life is dynamic and that, as over the preceding years, B'nai Israel needed to be a place where all Jews could gather – for spiritual, social, cultural, and educational experiences. The newly adopted mission statement opened the doors of welcome all who wish to identify with the Jewish community.
More History
Take a deep dive into the history of Petaluma's Jewish community. Published in 1993 by Cornell University Press, Kenneth L. Kann's Comrades and Chicken Ranchers: The Story of a California Jewish Community is an indispensable resource for understanding the community of which "Congregation Society B'nai Israel" has played a central role.
Sat, December 9 2023
26 Kislev 5784
Sat, December 9 2023 26 Kislev 5784