Shalom Chaverim
Shalom Chaverim Orientation and Program Kick-off
(Youth / Family Education)
Sunday, September 10, 2023
10:00 a.m.
For more information please email: office@bnaiisrael.net
The world depends upon three things: Torah, (wisdom, instruction),Avodah (service of the heart), and Gemilut Hasadim (acts of loving kindness) —Mishnah, Avot 1:2
Our program, for students in Kindergarten through 8th grade, is designed to instill a knowledge of Torah and Jewish identity, Hebrew prayers and holidays, and Jewish values. We are an inclusive, egalitarian, interfaith-friendly community honored with expert teachers bringing history, relevance & joy to learners of all ages and backgrounds.
We use a curriculum based on identifiable units of essential understanding and skills, as well as activities and parent education. Our curriculum is divided into the above three threads which interweave throughout the course of the year.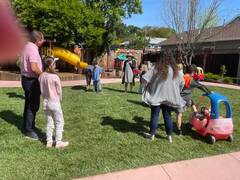 ---
Shalom Chaverim
Age group: Kindergarten through Eighth Grade
Sundays from 10:00 a.m. to 12:00 p.m.
This will include some Hebrew instruction.
Transitional Kindergarten students are welcome to join us from 10:00 a.m. to 11:00 a.m.
---
Rabbi and Education Director
Shalom Bochner
Contact him at: rabbi@bnaiisrael.net
Our Teachers
Fanny Stein - General religious ed.
Born and bred in Brooklyn and moved to Manhattan as an adult, Fanny holds a Master's degree in Education. She taught reading and language arts in New York City. After moving to California, Fanny worked in the art field with her late husband and owned an art gallery in Sausalito. Later, Fanny taught at the JCC preschool in San Rafael as well as the religious school at Congregation Rodef Sholom, also in San Rafael. When Fanny moved to Cotati, she became involved in the religious school here . She is a longtime BIJC youth educator: from J School to Shabbat Connect and now, Shalom Chaverim School.
Fanny has three daughters and five grandchildren all within 20 minutes of each other. Her 102 year old mother lives with her and Fanny is her primary caregiver.
Teresa Piotrokowski - Art, Games, and General religious ed.
Teresa is a current Shalom Chaverim and Hebrew Language parent, as well as the mother of our most recent Bar Mitzvah, Gabe. Teresa grew up doing and helping teach many art projects in religious school. Teresa has been involved for many years in some form or another at BIJC, as a part of the extended Piotrokowski family, longtime core BIJC members.
Judith Helman - General religious ed. & Hebrew familiarity. (General prayer/knowledge, separate from the Hebrew Language Program)
Fanny & Judith
(Photo taken at BIJC Hanukah Youth/Families event 2021, downtown in Petaluma)
——————————————————————————————————————————————————————————————————————————————
TUESDAY HEBREW CLASSES
Third through Sixth Grades:
We offer a Hebrew Language component to our youth education, in order to foster more understanding of the Shabbat service, as well as prepare for the B'nai Mitzvah program. Our Hebrew Language teacher, Judith Helman, is a former religious school principal and longtime Bat and Bar Mitzvah tutor. Rabbi Shalom Bochner will also be a part bof the Hebrew faculty. This program is open to grades 3rd through 6th. We will use a variety of Hebrew language materials, worlsheets, and text books focused on Siddur (Prayer-book) Hebrew decoding with basic fluency of meaning.
4:30 p.m. to 5:30 p.m. In-person at BIJC
To view the 2023-2024 Shalom Chaverim and Tuesday Hebrew schedules click here
Mon, October 2 2023
17 Tishrei 5784
Mon, October 2 2023 17 Tishrei 5784